Charger Troubleshooting Follow
The charger won't power on/Battery with X icon/Won't stay on for more than a few seconds
These symptoms typically mean you have fully depleted cells in your battery, or one of the cells is malfunctioning. This may be due to poor maintenance, or the internal batteries may have reached the end of their service life, and the unit needs to be replaced. For more information about power station maintenance please read our battery maintenance guidelines.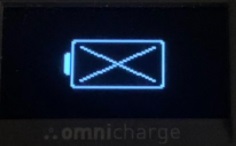 If the cells are over depleted due to not being used for a while, you can try to revive them through the following steps:
Plug the power bank in the Power Station and leave it charging for 24 hours.
If you are still unable to power it on, attempt to charge it via a USB-PD enabled charger, and leave it charging for 24 hours (only Omni20+).
Contact
If you are still having trouble, please contact our support team at powerstation@omnicharge.co.
Please provide them with the following information to help expedite the process:
The SN found on the back of the charger (a picture is often the easiest)
Purchase information (PO, Order ID, or where it was purchased)
Any relevant pictures of the defective product.